Ask about our Affiliate Program

Can you use a Credit Repair tool for your Clients or extended business network? Then partner up with The Nation's Best Credit Repair! Call our office today and inquire about our Affiliate Program.
As a Consumer it's your legal right to challenge inaccurate, obsolete, or un-verifiable information from your credit reports. Below are examples of what we have done for our Clients.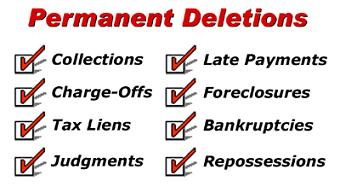 There are no hidden fees with our company. We give unlimited disputes and we do not charge per deleted item. Whether you have one or one hundred negatives items, you are backed by our Money Back Guarantee.

We are so confident in our ability to help you, that we challenge you to put us to work. As a matter of fact, we are so confident that if when you become our client, and for some reason we cannot improve your score, we will issue you a full refund, and give you $50 over and above for wasting your time! Try to find that guarantee elsewhere.